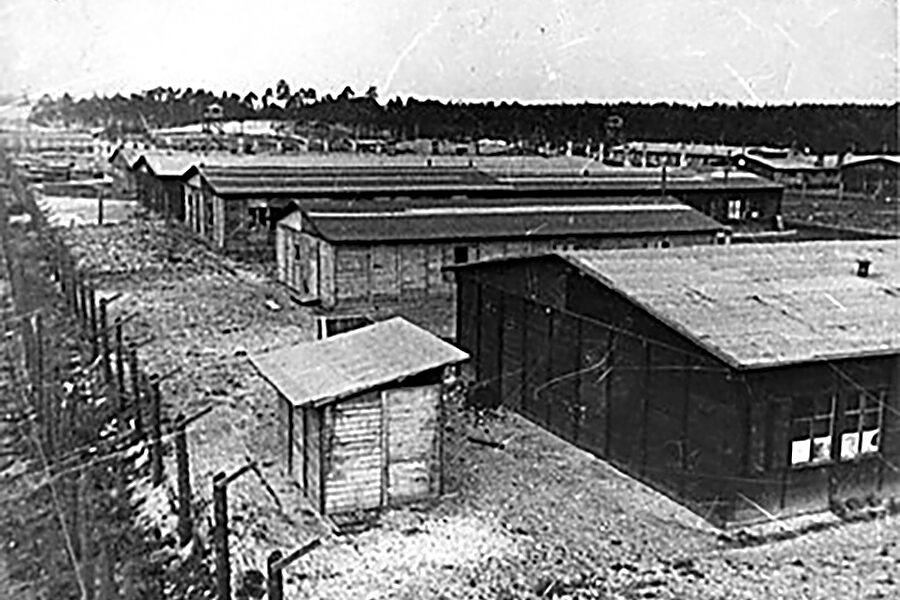 Kaiserwald concentration camp, Mezaparks, German-occupied Latvia, c. 1943.
Latvian State Historic Archives.
The Camp System in the Soviet Territories
During the twelve years of the Third Reich, the Nazis and their collaborators established more than 40,000 camps and other incarceration sites across occupied Europe.
In the German-occupied Soviet territories, sites of forced labor and murder included Pechora, Klooga, Bogdanovka, Mogilev-Podolsky, Domanevka, and Janowska.
Pechora was known in Russian as the "loop of death." Survivor Maria Gershevich recalled:
"The first thing that caught the eye was a huge sign that read, 'No living thing will escape.' In the stable, where the Jews were crowded, horses were on one side and people on the other. Decomposed corpses were scattered all over the place."
At Domanevka, 18,000 Jews were murdered between December 1941 and February 1942. Many of the 2,000-3,000 remaining prisoners died of disease, starvation, and exposure to the elements. When Soviet troops liberated the area in late March 1944, only 500 survivors remained.
Riva, Yakov, Michael, and Maria, Mogilev-Podolsky, U.S.S.R., 1941.
Maria (Roytshtein) Gershevich was four years old when the Nazis invaded. She was taken to the Pechora concentration camp with her aunt Rosa and younger brother Michael. Rosa bribed a guard with a gold watch to let them escape. Maria and Michael lived out the war in an orphanage.