Evacuation to the Soviet Interior
The large-scale relocation of Soviet citizens, industry, educational and cultural institutions, agricultural produce, and other resources to the vast Soviet interior began on June 25, 1941.
Around 17 million people were evacuated to the Urals, Siberia, Central Asia, and the Volga region. Deaths of evacuees were not uncommon; they endured bombing, overcrowded and unsanitary conditions, hunger, lack of medical care, and quickly advancing German troops. Female evacuees worked in industry and agriculture, taking the place of men fighting in the war.
Approximately 1.5 million Jews were evacuated, although many chose not to go. After the 1939 pact, Soviet media deliberately concealed information about Nazi persecution of Jews in German-occupied Europe. Some who stayed remembered being treated well by German occupiers during WWI. Others were old, sick, or physically unable to go.
2.5 – 2.6 million Jews remained in the Soviet lands occupied by the Germans. The great majority of those who did not evacuate were murdered.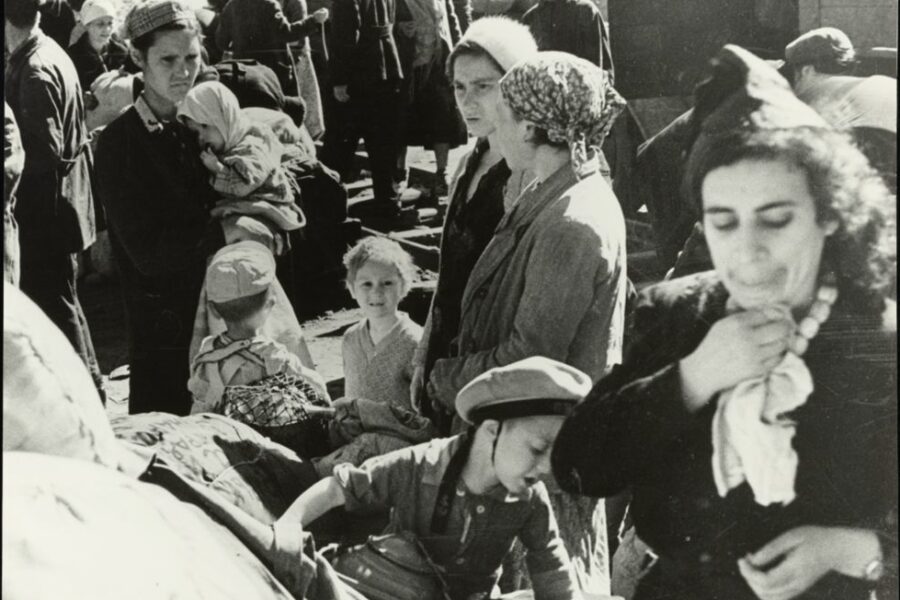 Evacuation certificate for the Alter family
Certification from the Black Sea Marines regarding the evacuation of the Alter family from Odessa to Stalingrad, July 29, 1941. The family was then sent by boat to Chimkent, Kazakhstan, where they lived out the war. Olga Schinder, the mother, was separated from her family and worked in a military hospital during the long and bitter siege of Sevastopol. She later rejoined them after being wounded.
Postcard from Yacov Khariton
Postcard from Yakov Khariton to his daughter Inessa (Innochka), evacuated from Leningrad to Shalya, Russia, 1943. The postcard depicts Soviet soldiers defeating a group of Germans with a popular military song.
Yakov wrote:
March 22, 1943
My dear little daughter Innochka!

Sending you a big kiss for the drawings you sent me. Next time write me a little letter. I will also write to you. Grow [up] to be a good and smart girl.

Your papa Yasha

To: Station Shalya
Sverdlovsk region
Branch of State bank
Khariton R.E.

From: Field mail 22338 "A"
Khariton Y.M.