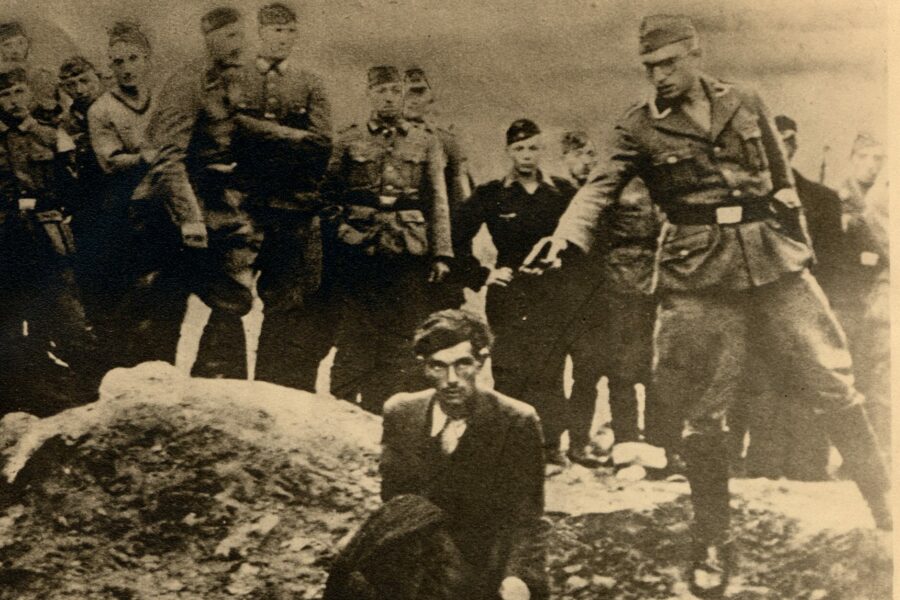 German soldiers looking on as a member of an Einsatzgruppe prepares to shoot a Ukrainian Jew, Vinnitsa, German-occupied Ukraine, c. 1941.
USHMM: Courtesy of the Library of Congress.
Three thousand men of the Einsatzgruppen (mobile killing units) entered Soviet territory behind the German army.
Their mission was to murder Jews, Soviet officials, political opponents, and Roma and Sinti as part of the "War on Judeo-Bolshevism".
The Einsatzgruppen, along with local collaborators and auxiliaries, took victims to the outskirts of cities or villages and shot them before the eyes of their neighbors. The Einsatzgruppen murdered at least 2 million people—the vast majority Jews. The first victims were typically men, but beginning in August 1941, Jewish women and children were no longer spared. The German army provided logistical support.
The Einsatzgruppen were ideologically trained individuals, including professionals and intellectuals, who became efficient murderers.
Shooting entire families was not easy. Some used alcohol to cope, while others broke down and asked to be excused from their duties.
None were punished.
A diagram attached to a German report
A diagram attached to a German report detailing the process by which some 500 Jews were executed in Zhitomir, German-occupied Ukraine, c. 1941.
The illustration recounts how the mass graves were dug, and Jews were made to stand on the edge so that the force of the shot propelled them into the grave.
Mass Murder: The Holocaust by Bullets
Massacres took place in both small and large communities.
In the Ponar forest outside Vilna, Lithuania, 70,000-100,000 Jews were murdered between July 1941 and July 1944. In the Rumbula forest outside Riga, Latvia, the Einsatzgruppen and Latvian auxiliary units murdered 25,000 Jews in November and December 1941—nearly all of Riga's Jewish population. In the Maly Trostinets area outside Minsk, approximately 200,000 Jews were murdered at multiple sites. 
On September 29-30, 1941, between the Jewish holidays of Rosh Hashanah and Yom Kippur, 33,771 Jews of Kiev were shot at the Babyn Yar ravine just outside the city. Killing continued during subsequent months, reaching about 100,000 victims. It was the largest single mass grave on Soviet territory.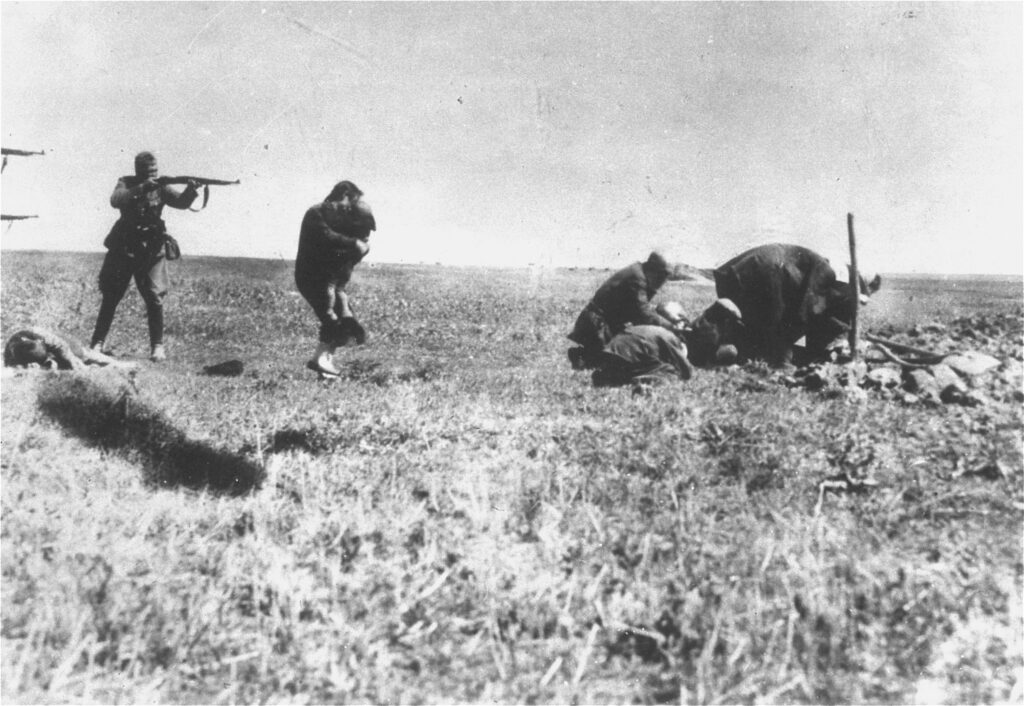 A mother and child being shot during an Einsatzgruppe mass shooting near Ivanhorod, German-occupied Ukraine, 1942.
USHMM: courtesy of Jerzy Tomaszewski.
Footage and still images of various Einsatzgruppen massacres throughout Soviet territories, 1941-1944.
"At about midnight the command was given…for us to line up. I…threw my [little] girl into the ditch and fell on top of her. A second later, bodies started falling on me. Then everything fell silent. There were more shots... ."
Yelena Yefimovna Borosyansky, one of the few survivors of Babyn Yar.
Letter written by Mikhail Mirkin
Letter written by Mikhail Mirkin, a Jewish soldier in the Soviet Red Army, on June 29, 1944, to his parents in Chereya, German-occupied Belarus, inquiring about their fate. The postmaster of Chereya replied that Mikhail's parents had been murdered along with all other Jews of the town during a mass killing on March 5-6, 1942.
Mass murder was so vast that collection of evidence continues today. Yahad–In Unum, led by French Catholic priest Father Patrick Desbois, identifies Jewish mass graves, collects forensic evidence, and records witness testimonies. To date, Yahad-In Unum has researched 2,907 execution sites and has gathered over 7,000 eyewitness testimonies. Each red dot on the map is a documented or suspected killing site. The maps and witness testimonies included in this exhibition have been provided by Yahad-In Unum based on its research of the Holocaust in Eastern Europe. Yahad-In Unum is the owner of such maps and witness testimonies.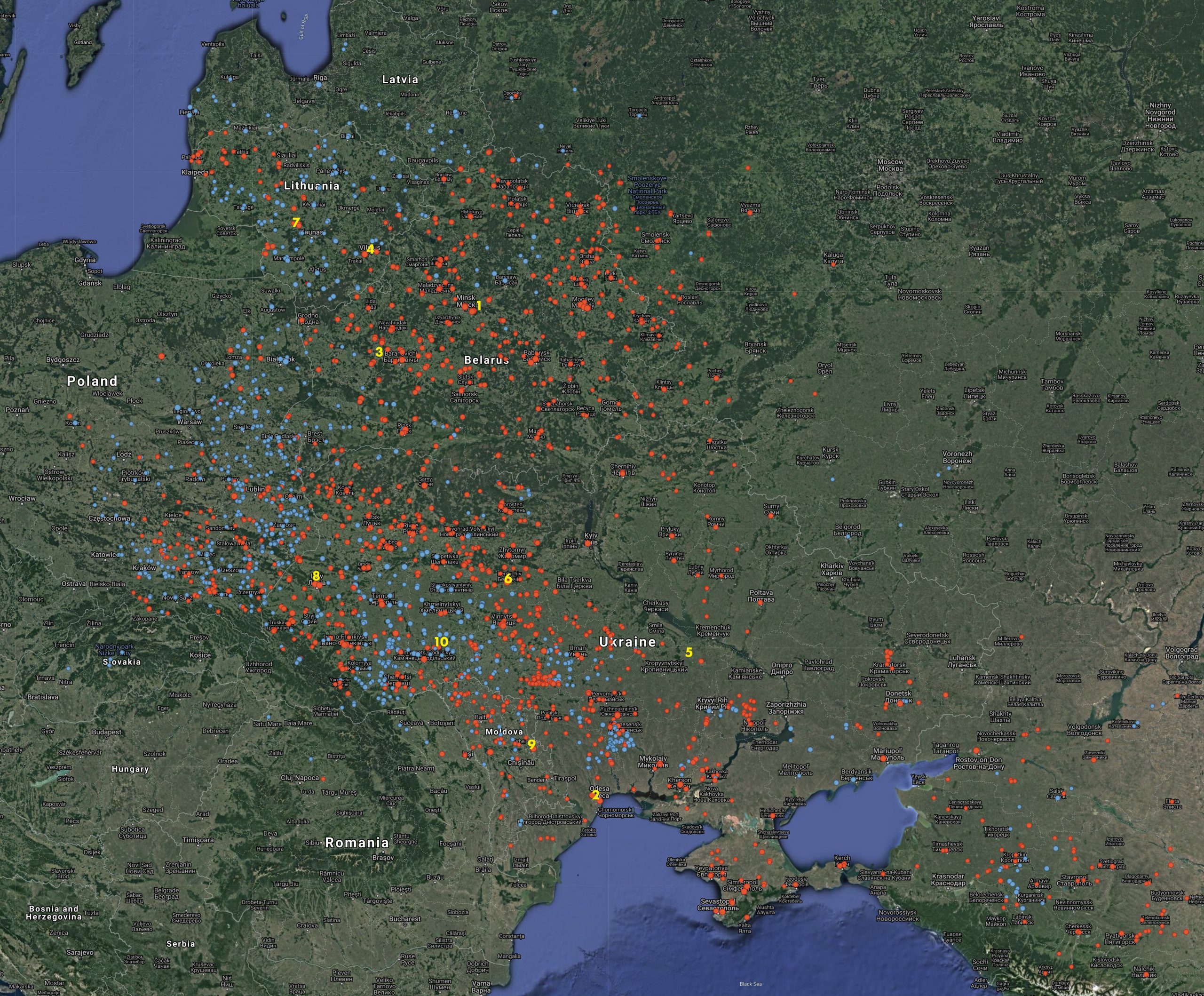 A map that accompanied a secret undated report on the mass murder of Jews by Einsatzgruppe A, c. 1942.
The Einsatzgruppen and collaborators murdered two million people – vast majority Jews – in the German-occupied Soviet Territories during the initial stage of the "Final Solution". 
Countless individuals, communities, governments, institutions, and industries across occupied Europe and the Soviet territories collaborated with the Germans or were complicit in their crimes.
Some Poles, despite fervent opposition to German occupation, assisted in the "Final Solution," as did some Ukrainian, Lithuanian, and Latvian nationalists. The 3,000 men in the Einsatzgruppen (mobile killing units) could not have murdered at least 2 million people without the active participation of thousands of local collaborators. Among Germany's allies, Romanian soldiers worked alongside the Einsatzgruppen in massacring Jews.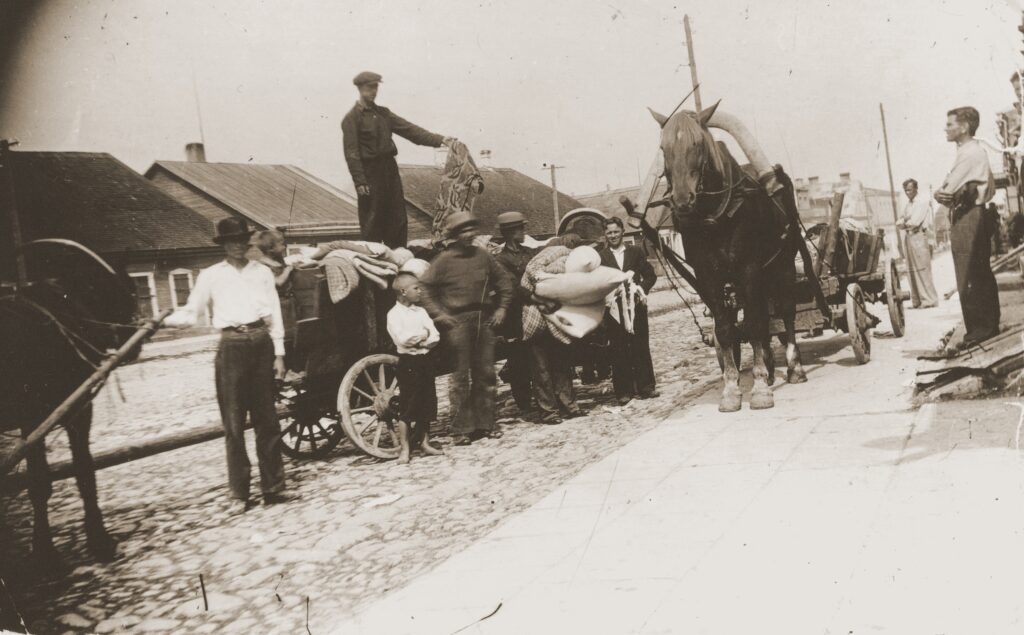 A member of the Lithuanian auxiliary police, who has just returned from taking part in the mass execution of the local Jewish population in the Rase Forest, auctions off their personal property in the central market of Utena.
USHMM: courtesy of Saulius Berzinis.